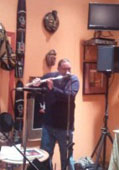 On a cold Friday night in an intimate setting, Jazz Flautist Keith Marks jazzed up an intimate crowd gathered to hear about heart health and stroke prevention.
Brought together by Margaret Cammarieri, the American Heart Association's Vice President for Health Equity, the event combined great jazz and gospel music with frank talk about strokes and healthy lifestyles. Communities of color have the highest risk for heart diseases and rank third in risk factors for stroke. Friday night's event was designed to bring more people into "the network to end strokes" and music was added to bring richness to the evening according to Ms. Cammarieri. We're here in "intimate setting because we're trying to save our families" Ms. Cammarieri told the crowd.
Founded in September 2009, Frank Talk Art Bistro and Books was created by Gilda Rogers, a writer and teacher. After moving to Monmouth County, she felt the need to open a place where the community could gather to listen to music, engage in frank talk, read, write and relax. Modeled on the places Gilda frequented growing up near Newark, Frank Talk is "a little small place, with a lot of energy". Embodying Gilda's energy, drive and personality, Frank Talk is a cozy store front filled with warm earth tones, art, photographs and a wall full of books for sale.
Friday night's event was a clear expression of Gilda's dream as the temperature dropped to the low teens and the windows of Frank Talk fogged up and icicles hung down from the roof outside. Inside, in the cozy room, Ms. Cammarieri led the group in frank talk about heart and health issues, a buffet of flavorful, heart healthy soul food filled the back room and Keith Marks conjured the spirits of Jersey Shore jazz greats with Donald Nicks on bass and Diego Lopez on drums.
Marks has played the Jersey Shore for almost thirty years and remarked that he has always found great inspiration playing in Red Bank, Asbury Park and Neptune. The New York native has played all over the world including at the Punahou School, where President Obama attended high school in Hawaii. Marks was hired by the school's marching band director, the same director who brought the school's band to Washington D.C. to perform in the inaugural parade in 2009.
"People down here (Monmouth County) love music and it's obvious" Marks commented, adding that "it's great inspiration when people love the music". That's why it's such a joy playing here, the energy, the love, the knowledge it all flows together he finished.
This (Red Bank) is "the home of Count Basie, the spirit still lives" he said. "Music never dies it just stays in the air" Marks continued with a sort of low-key, high octane energy that warms both his music and his conversation.
And at Frank Talk Art Bistro and Books on Friday night you could feel that history and those spirits filling the room as people ate, laughed, sang and danced while trying to save their families with some frank talk.