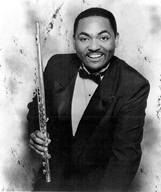 Keith Marks was born in the South Bronx, the original source of rap, break-dancing, and much of the hip hop culture. Through his mother, aunts and uncles, he was exposed to gospel music, Lester Young, Charlie Parker and, from his own neighborhood, the rehearsals of Eddie Palmieri and various African and Caribbean musicians. At 14, he studied flute with Eddie Forte. Following graduation from Morris High School and periods at Mannes College of Music and Berklee, he continued private flute studies with Karl Kraber and theory with Eric Ewazen at Julliard. His education continued as a sideman with the society orchestra of Ross Carnegie and the 360 Degree Music Experience, where he played and recorded with jazz giants Beaver Harris, Dave Burrell, Jimmy Garrison and the steel drum virtuoso, Francis Haynes. He also worked at the 109 Gallery in Spanish Harlem with musicians like John Hicks, Patato Valdes, Michael Carvin, and Albert Dailey.
Keith started his own quartet in 1974 and, after a series of successful club appearances, began to seek venues where his music could educate, heal and communicate to a broader audience. A perennial favorite on the college circuit, Keith has often graced the main stage at the National Association of Campus Activities (NACA) and played return engagements at colleges throughout the East including Howard University, Princeton, Temple, Rutgers, Duchess Community College, and the Culinary Institute of America. He has performed in Hawaii for over 35 years, bringing his smooth sound to the many campuses of the University of Hawaii, Kapi'olani Community College, Brigham Young, Hawaii Pacific University, Chaminade University, and more recently a performance and master class at the Punahou School. His social conscience has led him through tours of correctional facilities in New York and Pennsylvania, engagements at Pete Seeger's Jazz Flutist Salutes, and countless appearances at hospitals and homeless shelters for Hospital Audiences, Inc. (HAI). His corporate engagements have been sponsored by the New York Times at the Metropolitan Museum of Art, the Japan Art Association at Kykuit in Tarrytown, and have included a tenth appearance at the African-American Institute and a private party honoring former South African President Nelson Mandela at Rockefeller Center. He has played before other such luminaries as, former President Jimmy Carter, Winnie Mandela, and Bill Gates.
Keith has recorded two CD's entitled "In It" for Kent's Island Music (Kimu Records) and "Foreign Funk" for Markei Records. Accompanying him on "In It" are some of New York's finest studio musicians, including the rhythm section from the Apollo Theater. The material, reflecting Keith's broad background, ranges from soul favorites ("Ain't Nobody", "Ooh Child") through Caribbean styles ("Boo Boo") and jazz ("Hipsippi Blues") to a funky dance version of the South African national anthem. One of the musicians from the sessions remarked, "Wait 'til the people hear this! It's Keith's time…" On Foreign Funk, Keith has surrounded himself with a team of worthy veterans to put his stamp on popular songs, such as Axel F, Summer Breeze, and Mission Impossible, and introduce three new songs, including Foreign Funk, a funky blend of jazz, R&B and Caribbean. In short, the CD "Foreign Funk" is a toe-tapping, finger-popping universal sound with a spiritual groove.
"My flute is connected directly to my central nervous system," Keith Marks stated in an interview, and over the years, thousands of fans have joyously shared that connection. In the tough, street-wise worlds of R&B and Jazz, Keith has forged a unique and commanding rhythmic voice from a seemingly delicate instrument. He has become, in the words of George Kanzler, formerly of the Star Ledger, "an infectiously funky Pied Piper of jazz flute."